Hello, Friends! Today I'd like to share with you a grand, diy project recently completed in the home of Scott and Jessi Locke. It was Scott's idea to transform this simple, breakfast nook wall...
photo by J. Locke
into this...
photo by J. Locke
A fabulous wall of pennies!
It all started with mdf
(according to Wikipedia is denser than plywood. It is made up of separated fibres, but can be used as a building material similar in application to plywood. It is stronger and much more dense than normal particle board.)
photo by J. Locke
The board was painted black and the outlet space cut out.
For the most part, there was no particular pattern throughout the board, but Jessi threw in a fun twist here and there by adding some coins from Canada and Burmuda. In the mix of coins, there were some wheat pennies from the 40's, 50's, and 60's and even a fake coin they received from the bank was thrown in. She also created a line of coins that represented the family's birthdays starting with Dad's and ending with last of three children. The oldest penny Jessi found was from 1916. She formed a flower shape from a series of 2010 Union Shield pennies, which I'm guessing will be a lot of fun to find!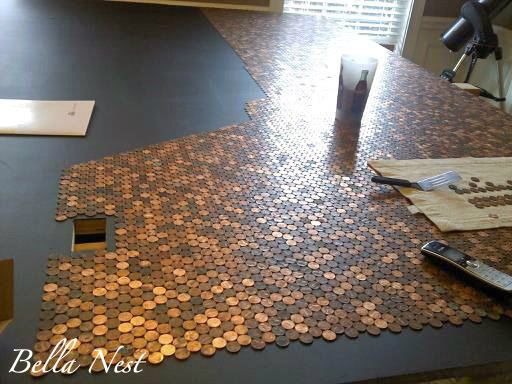 photo by J. Locke
After Jessi arranged the pennies, Scott attached them to the mdf with a lot of super glue!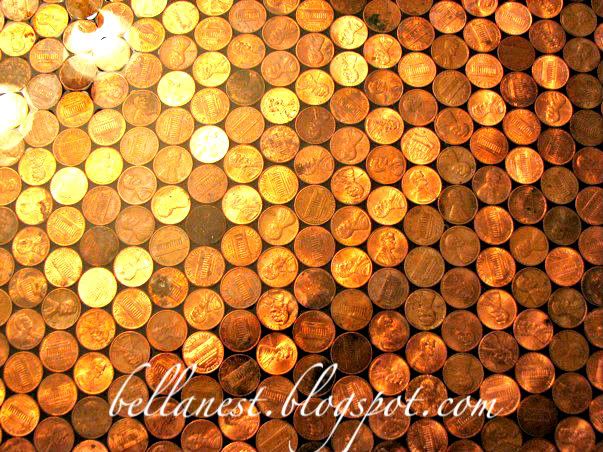 photo by J. Locke
The wall consist of 136 pennies in each row top to bottom and in all there's a total of
19,400 pennies covering the 9x8 ft. wall.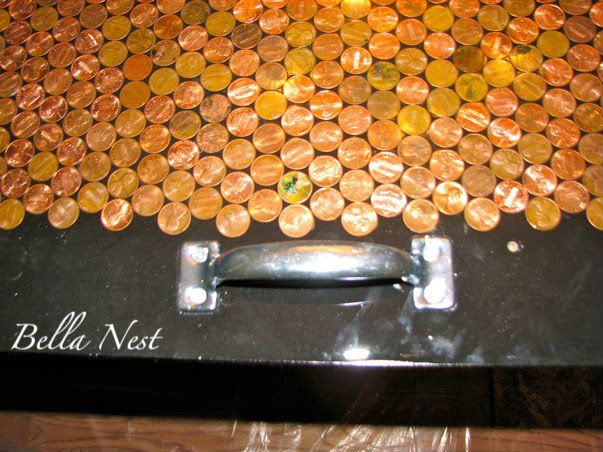 photo by J. Locke
After the pennies were secured, Scott applied bar top, self-leveling epoxy to give it what Jessi calls "an under water effect." Once applied, the epoxy began to bubble up so he used a blow torch to bring them to the top and rid them. After two and a half weeks, the wall was ready to be installed. It took Scott and his four helpers to lift the extremely, heavy board.
Photo by J. Locke
Because Scott is a contractor, he knew exactly where to screw the board on to the wall.
Photo by J. Locke
The molding was replaced and the Locke's masterpiece was complete!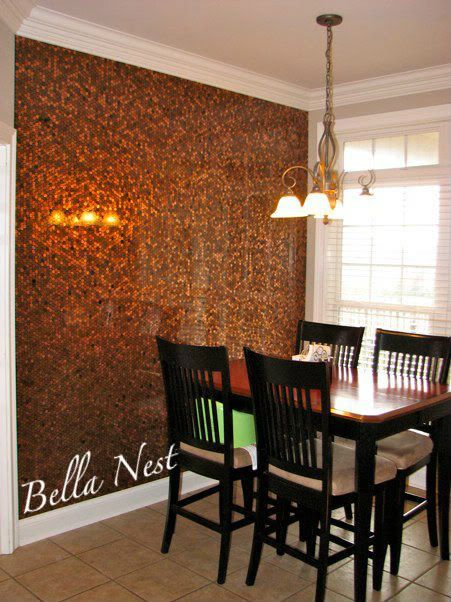 Photo by J. Locke


Can you just imagine all the fun times to be had playing find that penny with family and friends?
I think their hard work will pay off for many years to come!
photo by J. Locke


Their little girl sure is happy about the new wall!